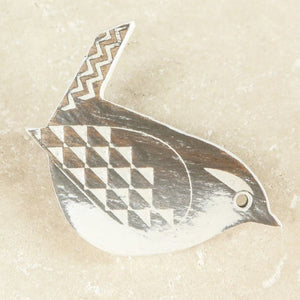 Based on the little wren, one of Britain's tiniest birds, this brooch is cut from warm-toned cherry wood and engraved with a stylised design inspired by the beautiful patterns of the feathers. it has been hand painted in shades of taupe and white, then distressed to give it an antique and rustic feel.

This brooch comes prettily packaged on its own presentation card, snugly tucked into a natural kraft pillow box, making it a really great gift.  This packaging is recyclable.

Product information:

Size:  4.5cm x 3cm

Material:  cherry wood veneer

Due to the natural variations of the painting and finishing processes, each brooch is unique and may vary from the one shown here, but will be just as beautiful.