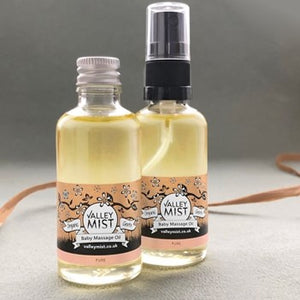 Formulated and specifically made for babies but suitable for all skin types.  This organic blend of sunflower and sesame seed oil is perfect for massaging soft skin.
The king of massage oils, sesame seed oil, used for thousands of years in India for Ayurvedic practises.  Safe for babies, the organic cosmetic grade sesame seed oil  used blended with organic cosmetic grade sunflower seed oil, makes a delightful and effective massage oil that has the rich viscous property yet balanced lightness that won't leave the sink heavy in oil.
A lovely new-born baby gift.
Product information:
Size:  50ml
Ingredients:  helianthus annuus (organic sunflower) seed oil, sesamum indicum (organic sesame) seed oil, tocopherol (natural vitamin E)
Pure massage oil is without added fragrance so you can rest assured your baby's skin will love this gentle blend of oils