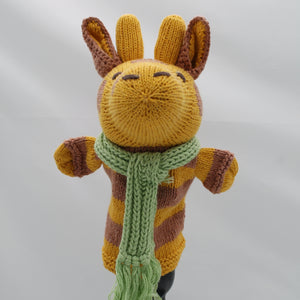 When you give a puppet to a youngster, you are really giving the gift of imagination!
This cute giraffe puppet is the tallest animal in the jungle... he gets a child thinking about far away places where elephants roam and monkeys chatter.
Product information:
Hand knitted
Material: certified organic cotton and padded with oeko-tex certified stuffing.
Care instructions: machine washable - pull back to shape and lay out flat to dry.
Size: approx 26 cms tall from head-top to bottom seam, with an armspan of 22cm.
It is large enough for an adult hand as well as a childÕs.