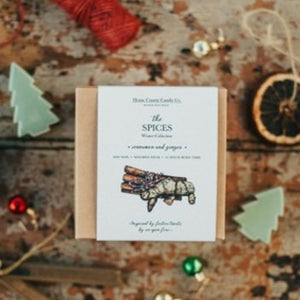 A gorgeous Christmas spices scent perfectly capturing the festive season with the zest of lemons and orange, whilst the warmth of the wood fire is embodied through spices of cinnamon, ginger, thyme and nutmeg.
Picture cosy winter evenings enjoying sweet, spiced Christmas treats in front of a roaring log fire - slippers on and feet up whilst your delicious cinnamon candle fills the air with the scent of Christmas.
The perfect gift this Christmas.
Product information:

This candle is made with natural soy wax, which is biodegradable and vegan friendly.

Size: 200g

Burn time: 45-50 hours

Additional advice: the wooden crackle wicks should be trimmed to 5mm before each burn