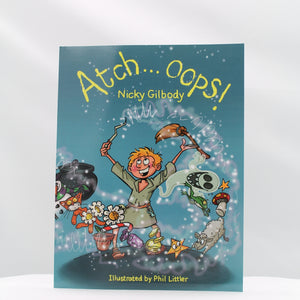 A tickle, a prickle, an itch - "Stop it, please!" too late!  Out exploded an ENORMOUS sneeze!
The poor trainee dream weaver has a broken wand and a big problem - everyone has the wrong dream!
A heart-warming story showing that good can come from even the biggest mistakes! Atch... oops! is written by Nicky Gilbody, a qualified speech and language therapist and mother of two.
Product information:
Age:  brilliant for kids up to perhaps 6 or 7